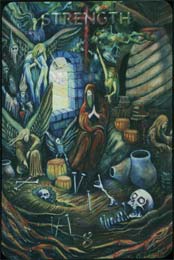 Templar Tarot
Strength
This is about all those wonderful virtues of strength, willpower, compassion, patience, courage and fortitude, but like all the cards, can just as well represent the opposite; cowardice, fear, inertia, defeat, loss of opportunity.
Strength can suggest the rapid recovery from illness or the right time to give up those bad habits.
It's a great card to pull if you're struggling with a situation, as it represents the energy of having the mettle to see things through.