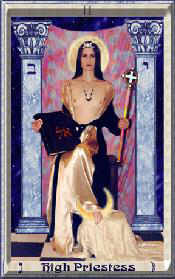 Aisha Qadisha Tarot
The High Priestess
She's our intuition, our link to the universal consciousness and represents the divine feminine.
She's the guardian of secrets, which can be a positive or negative thing, depending on whether you want to know, keep, share or avoid disclosing them!
Trust your instincts, they're always right, but watch out for emotional insecurity.